Welcome to the second article in our "Experiences with Kratom" series! As always, we're excited to share more information in an effort to make buying kratom online as easy and painless as possible. In a nutshell, we do this to take as much guesswork as possible out of your experience. This series is intended to share other users' experiences, but occasionally we'll mix in some other content that we think is useful and relevant. Let's get to it!
Do the Claims About Kratom Stand Up?
This week, we'll take a look at an article from Zobuz that has a great deal of information about using kratom for depression and anxiety. While they go on to discuss different strains and reported effects, the article neatly sums up how kratom works for depression and anxiety:
"Kratom is not technically an opioid, but its effects are similar to those of opioids, such as morphine or codeine. The active ingredient in kratom is called mitragynine. Mitragynine binds to opioid receptors in the brain, which provides pain relief. This action could be the cause of the antidepressant and anxiolytic effects reported by some kratom users. There is currently very little research on the effects of kratom on mood. A 2017 review confirmed that in some users, kratom improves mood and relieves anxiety. The researchers also pointed out that kratom can have sedative effects. Researchers have yet to examine whether side effects such as sedation can interfere with its purported benefits."
While we agree that further research is needed, we know that botanically speaking, kratom is in the family Rubiaceae. This is important information (even if it's a little technical) because Rubiaceae is the same family that brings us Coffea from which we get… coffee. Most species in the family Rubiaceae share two important characteristics; they primarily grow in sub-tropical and tropical regions, and a large number of them produce alkaloids.
Alkaloids in Kratom
Alkaloids may be one of the most important chemical compounds that you've never learned about. The word gets tossed around a lot in the kratom world, but it's worth taking a minute to explain exactly what it means.  Oxford Languages defines alkaloids as "any of a class of nitrogenous organic compounds of plant origin which have pronounced physiological actions on humans [emphasis added]. They include many drugs (morphine, quinine) and poisons (atropine, strychnine)."
We bolded that for a reason. Pronounced physiological action is what kratom is known for. Another fun thing that gets tossed around in the kratom world is "complete mitragynine profile". While that's a little bit of a buzzword/marketing phrase, there's actually some science going on behind it. According to a study in Natural Product Communications, there are five (5) "principal pharmacologically active alkaloids in kratom". "Principal" in this case refers to the main pharmacologically active alkaloids present in all kratom. The study further tested multiple products on the market in 2018 and determined that certain strains contain up to 24 alkaloids in total!
In case you were wondering (and you too survived organic chemistry), here's what those compounds actually look like: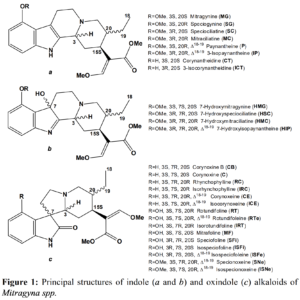 Can Kratom Relieve Depression or Anxiety?
Because kratom is so chemically complex, it's very difficult to say exactly how the effects vary from strain to strain and even person to person. It's truly a unique experience. So, the million-dollar question stands: does kratom relieve depression? Can kratom reduce anxiety? According to our friends at Zobuz, it appears the answer is a resounding yes. They wrote that "… a 2018 study based on a survey of 8,049 people who use kratom, most people reported that a dose of up to 5 grams of powder taken up to 3 times per day was sufficient to get effects."
At Pop Kratom, we know that it can be hard to find the right strain for you. That's why we've put in the time to find the best manufacturers around. Our products are rigorously tested to deliver the same quality time and time again. Instead of trying to find the best fit, we decided it was in everyone's best interest to stock the most popular and consistent products on the market so that you have the best experience possible buying kratom online.
We want your experience with our products and our company to be completely positive, and we work hard to bring you the best information and the highest quality kratom on the market. Create an account today to rack up rewards, access exclusive offers, and buy kratom quickly and easily! If you prefer to browse or know what you want, head over to the shop– we've got kratom gummies, kratom shots, kratom powders and kratom capsules from the best brands around. We're always here to help if you ever have any questions– and remember, we ship from the US (so you get your order quickly) and accept all major credit cards for your convenience!